Project News
10 Nov 2018
Boss Balloons & Terrible Toads

Pop Rock 'N' Roll sneak peek time! Here's a picture of the first boss as it currently appears in the test level. What could these two be up to? Stealing all your candy, most probably. If only someone with a spinning crosshair cursor could pop their ride!

With Soko Banish work largely out of the way (for now), I may be able to devote more of my time to this project again and you may be seeing a few more pictures and posts as time goes on (there was a Twitter-exclusive look at some editor updates a while ago and I strongly recommend following me there). The problem with posting about it is that no one's gotten to play it yet and I don't want to give things away, which makes it hard to be particularly informative. Tricky tricky!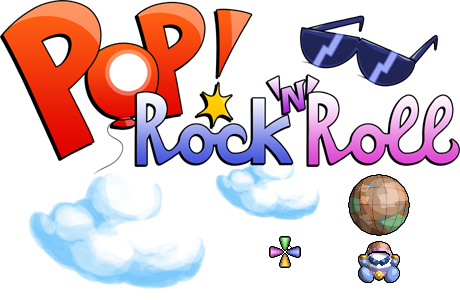 Don't let those airheads take your candy!

The cloud empire of the Mokos is in trouble: more and more of the evil Orbies are taking to the skies to take their candy. Armed with the legendary Moko Popper, can you burst their bubble and send them plummeting before they take all the sweet delicacies for themselves?

Pop Rock 'n' Roll is a vibrant action game that has you pop balloons with your mouse to prevent enemies from reaching the top. But don't be too trigger-happy: not every balloon should be popped, as they may carry helpful power-ups or even friendly Mokos, who will cost your precious candy if you burst their ride!

You're going to need quick fingers and a cool head as you stop wave after wave of Orbies and giant bosses.
Features
Five colourful game worlds with a big boss to fight at the end of each.
Encounter many different object and balloon types, both helpful and harmful.
Power-ups like the Super Popper and Slow-Mo help you out - if you can snatch them!
Tackle pre-made waves in the story mode or try to survive the randomised arcade mode!
Create your own challenges with a powerful wave editor.
Screenshots
(Note: This project is still in development, so screenshots may not show the final look of the game.)
| | |
| --- | --- |
| | |
| Gameplay | Early look at the editor |
For more sneak peeks, see the news archive!