3. August 2018
Soko Banish 1.5.0 is out, adding custom skins, solution saving and more!
The editor has also been updated to 1.4.1 to support the new skins.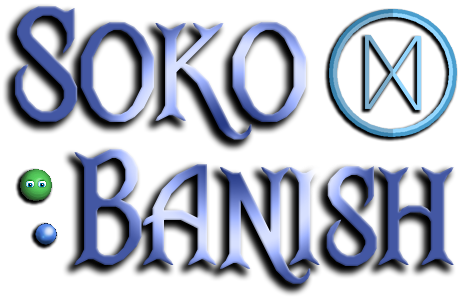 Who would have expected demons?

When Ardos Balmung found himself in the ruins of Greifenhausen, he found all the soulstones removed from their banishing circles by a supernatural quake. If he cannot move them back and neutralise the demons inside, inferno may break loose!

Help Ardos push all the soulstones onto rune circles in this puzzle game based on the classic Sokoban, but watch out: as in the popular classic, stones can only be pushed and not pulled, so try to avoid unwinnable situations that would surely spell doom as you uncover the right sequence of moves. Open gates, avoid roaming ghosts, and when all challenges are mastered, use the Level Creator to create your own for more fun!
Features
The classic object-pushing game with new game elements.
Solve puzzles and avoid ghosts in 44 levels + add-on sets.
Save your solutions, use custom skins and track your progress.
Grab new levelpacks below, or use the Level Creator to make your own!
Screenshots
| | | |
| --- | --- | --- |
| | | |
| Standard levelpack | Standard levelpack | Level Creator |
Downloads
Add-on levels

Unzip level set folders directly into the game's "levels" directory (make sure you have the latest version installed). If you have made any levels you would like to share, please send them to tammy@lanschilandia.com (the list is updated manually, so be patient).
Levelpack
Author
Levels
Description
Added
Pumpkin Patch


(.zip file, 4.39 mb)

Tammy Spahn
20
Moderately difficult puzzles with a spooky new theme and music, using the Soko Banish elements.
31-Oct-18
Kingdom Come


(.zip file, 49.6 kb)

Tammy Spahn
100
100 all-new puzzles using only the classic Sokoban elements.
21-Feb-18
Sokoban


(.zip file, 25.5 kb)

Thinking Rabbit
50
Recreations of the original Sokoban levels.
03-Sep-16
XSokoban


(.zip file, 19.7 kb)

Unknown
40
All the public domain levels (unknown authors) included with XSokoban.
03-Sep-16
News
31 Oct 2018
Soko Banish Levelpack - Pumpkin Patch

A new add-on levelpack has been added to the Soko Banish downloads section, complete with its own graphics theme and music. Arrange pumpkins in 20 all-new levels using elements like orb traps and breaking floors, but don't get spooked... Enjoy, and Happy Halloween!

If you too have new levels to share, please send the zipped up levelpack folder to my contact email and I'll see if I can post them.