20. April 2018
Level Creator 1.4.0 is out, adding much needed features like testing, undo and more.
Check the version history in the included help file for all changes!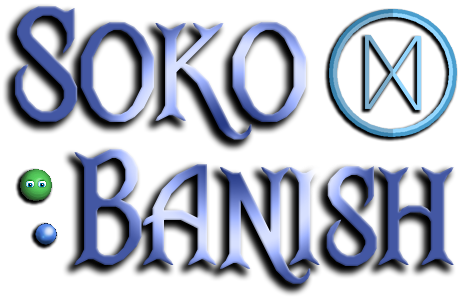 Who would have expected demons?

When Ardos Balmung found himself in the ruins of Greifenhausen, he found all the soulstones removed from their banishing circles by a supernatural quake. If he cannot move them back and neutralise the demons inside, inferno may break loose!

Help Ardos push all the soulstones onto rune circles in this puzzle game based on the classic Sokoban, but watch out: as in the popular classic, stones can only be pushed and not pulled, so try to avoid unwinnable situations that would surely spell doom as you uncover the right sequence of moves. Open gates, avoid roaming ghosts, and when all challenges are mastered, use the Level Creator to create your own for more fun!
Features
The classic object-pushing game with new game elements.
Solve puzzles and avoid ghosts in 44 official levels.
Grab new levelpacks below, or use the Level Creator to make your own!
Screenshots
| | | |
| --- | --- | --- |
| | | |
| Standard levelpack | Standard levelpack | Level Creator |
Downloads
Add-on levels

Unzip level set folders directly into the game's "levels" directory (make sure you have the latest version installed). If you have made any levels you would like to share, please send them to tammy@lanschilandia.com (the list is updated manually, so be patient).
Levelpack
Author
Levels
Description
Added
Kingdom Come


(.zip file, 49.6 kb)

Tammy Spahn
100
100 all-new puzzles using only the classic Sokoban elements.
21-Feb-18
Sokoban


(.zip file, 25.5 kb)

Thinking Rabbit
50
Recreations of the original Sokoban levels.
03-Sep-16
XSokoban


(.zip file, 19.7 kb)

Unknown
40
All the public domain levels (unknown authors) included with XSokoban.
03-Sep-16
News
20 Apr 2018
Level Creator Update 1.4.0
The Level Creator for Soko Banish has been updated to its next milestone version, 1.4.0. This is a major feature update adding tons of useful functionality, such as:

- Level testing!
- Undo/redo
- Easier handling of levelpack files
- Random object placement
- Pasting ASCII levels from clipboard

And much more! It also fixes many bugs and issues remaining in the previous version and adds new cobweb decorations to use in your levels. As usual, you can update your editor by downloading the latest version and replacing your old "levelcreator.exe" and "edithelp.txt" files with the new ones. A complete list of changes can be found in the updated help file.

Enjoy, and don't forget to share your creations with us!