23. November 2017
Version 2.0 is here! It's a complete overhaul of the old game.
Check the readme for a list of new features!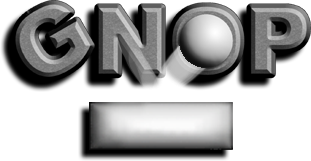 The paddle & ball game returns.

One of the world's simplest video game concepts comes to life once more in GNOP, a fully customisable game in the spirit of "Pong" for one or two players. Bounce the ball off your paddle just right to prevent your opponent from catching it, but be careful not to miss it when it comes flying back to you!

Now you can enjoy the game in any way you like, because GNOP 2.0 is more customisable than ever. Use your own graphics, sounds and music and change everything from paddle speeds to the size of the playing field, then save your setup and share it with friends!
Features
Play against a human opponent on the same computer or one of four CPU difficulties.
Customise everything, from appearance to sounds to the gameplay itself!
Happy with your customised look? Share it with others or just save it for later.
Screenshots
| | | |
| --- | --- | --- |
| | | |
| The paddle game... in space! | Playing with your food | Change everything! |
Downloads
News
23 Nov 2017
GNOP 2.0 is out!

GNOP 2.0 is out now!

This new release of my Pong clone from 2005 is a complete overhaul of the game - right down to its core engine - and full of exciting features. Customise and personalise your gameplay experience with new graphics, sounds, music and more! Check out the download page - it's freeware!