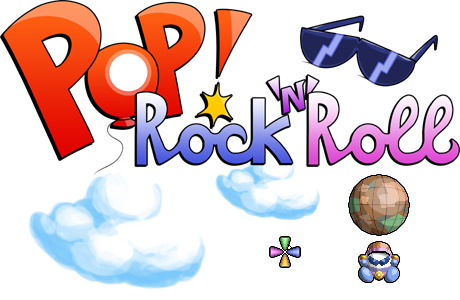 Don't let those airheads take your candy!

The cloud empire of the Mokos is in trouble: more and more of the evil Orbies are taking to the skies to take their candy. Armed with the royal Pop-o-Matic, can you burst their bubble and send them plummeting before they take all the sweet delicacies for themselves?

Pop Rock 'N' Roll is a vibrant action game that has you pop balloons with your mouse to prevent enemies from reaching the top. But don't be too trigger-happy: not every balloon should be popped, as they may carry helpful Power-Ups or even friendly Mokos, who will cost you precious candy if you burst their ride!

You're going to need quick fingers and a cool head as you stop hordes of enemies and overinflated bosses.
Features
25 levels of bouncy balloon-popping action.
Encounter more than a dozen different object and balloon types, both helpful and harmful.
Power-Ups like the Super Popper and Slo-Mo help you out - if you can snatch them!
Tackle pre-made levels in the story mode or try to survive the randomised arcade mode!
Adjust the difficulty to your liking, from the relaxed Carefree mode to insane Balloonatic.
Create your own levelpacks or extend the game with other people's!
Note: This is the feature list for the Full Version of the game. The Demo contains a dedicated Demo Levelpack with 5 levels, a limited Arcade mode and fewer object types.

Screenshots
| | | |
| --- | --- | --- |
| | | |
| Balloon-popping fun! | Fight big bosses at the end of each world | Mokos are friends. Don't drop 'em, please. |
| | | |
| The Super Popper helps against tough rockets | Towering challenges | Create your own levels with the level editor! |
Downloads
Add-on levels

Unzip Levelpack folders directly into the game's "levels" directory (make sure you have at least the newest version installed; levels require the Full Version unless stated otherwise). If you have made any levels you would like to share, please send them to tammy@lanschilandia.com (the list is updated manually, so be patient).
Levelpack
Author
Levels
Description
Added
Demo


(.zip file, 11.6 kb)

Tammy Spahn
5
All the levels included with the Demo version.
17-Apr-22
News
17 Apr 2022
Pop Rock 'N' Roll is here!

Without further ado, Pop Rock 'N' Roll is now out! Wow, I kinda skipped over the teasers there, didn't I?

After 6 years, here's what started out as a "quick 1-2 week project" and somehow turned into my first non-free game on itch. With all the work that's gone into the game, digitally painted backdrops and soundtrack, I'm hoping there's enough content here to warrant not making this one free. Let's see how this goes!

I'm happy to say that it's lots of fun, and it has the familiar extendability with a level editor and full support for custom levelpacks. And there's a demo on its page, so go check it out! It's got 5 levels and the editor!

The page also links to the itch.io project page, which has a discussion board. Let me know what you think!