Project News
24 Sep 2020
Pop Rock 'N' Roll - Survival of the Floatest
There hasn't been much news on Pop Rock 'N' Roll, so here's a blog post talking about my considerations for the survival mode. On that note, there is also a new blog, so I no longer need to use our host Grifkuba's blog to share my musings.

For those wondering about the state of the game, it's definitely still in progress, it's just going at a snail's pace due to general lack of interest (mine). There are assets needed that take a long time to create, as well as a lot of boring work to be done before I'm at a point where I feel confident that I can start putting more work into the game's levels. When that happens, there will probably be more to show off, but when that is, only time will tell.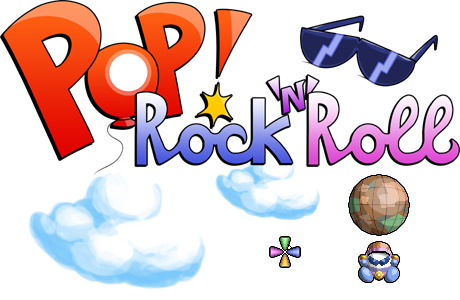 Don't let those airheads take your candy!

The cloud empire of the Mokos is in trouble: more and more of the evil Orbies are taking to the skies to take their candy. Armed with the legendary Moko Popper, can you burst their bubble and send them plummeting before they take all the sweet delicacies for themselves?

Pop Rock 'n' Roll is a vibrant action game that has you pop balloons with your mouse to prevent enemies from reaching the top. But don't be too trigger-happy: not every balloon should be popped, as they may carry helpful power-ups or even friendly Mokos, who will cost your precious candy if you burst their ride!

You're going to need quick fingers and a cool head as you stop wave after wave of Orbies and giant bosses.
Features
Five colourful game worlds with a big boss to fight at the end of each.
Encounter many different object and balloon types, both helpful and harmful.
Power-ups like the Super Popper and Slow-Mo help you out - if you can snatch them!
Tackle pre-made waves in the story mode or try to survive the randomised arcade mode!
Create your own challenges with a powerful wave editor.
Screenshots
(Note: This project is still in development, so screenshots may not show the final look of the game.)
| | |
| --- | --- |
| | |
| Gameplay | Early look at the editor |
For more sneak peeks, see the news archive!